Design Technology
Our Design and Technology Curriculum Intent:
'Design is not just what it looks like and feels like. Design is how it works.'
—   Steve Jobs —
At Pennoweth, we believe that Design Technology inspires children to learn to think creatively to solve problems. We encourage children to use their imagination to design and make products in response to real and relevant problems within a variety of contexts, taking into account their own and others' needs and wants.
Our curriculum, taken from Cornerstones, enables children to progressively develop knowledge, skills and vocabulary, which are transferable to other areas of the curriculum. Through a well-planned and well-resourced curriculum, we develop children's creativity, and promote their interest, understanding, risk-taking and effective evaluating skills through all aspects of design.
Design Technology at Pennoweth is taught in blocks across a two-year cycle in order that children achieve depth in their learning. Key knowledge, skills and associated vocabulary have been identified and these have been mapped across the school to ensure progression. At the start of each unit, teachers establish the starting point for each child and ensure that all lessons taught are relevant and developmental, and consideration is given to how greater depth will be reached within each lesson, as well as how learners will be supported in line with the school's commitment to inclusion.
Cross curricular outcomes in Design Technology are specifically planned for, with appropriate links between the subject itself, and English, Mathematics, Science, Computing and Art lessons identified, planned for and utilised.
DNA
The culture of our DNA at Pennoweth also aids and supports the teaching and learning of Design Technology throughout the school.
Children are encouraged and taught to work methodically in Design Technology, using their imagination to design and construct their projects to solve real life and relevant problems. They are encouraged to experiment with a variety of resources and techniques to bring their creations to life; taking risks in their learning and sharing their concepts with the rest of the class, in a safe and trusted atmosphere where design improvements form an organic part of their learning. Discussion, investigation, evaluation and Teamwork are fundamental to Design Technology and through effective collaboration, sharing of ideas and support from their peers and adults around, the children feel loved. Designing and creating, with a specific purpose in mind, carries with it great responsibility, a transferable skill that the children can take into other areas of their learning at Pennoweth. Design Technology constantly challenges children's learning and ensures that they have a platform for expressing their ideas from the beginning stages of research and design, through to the end build and evaluation. Finally, through the ever changing platform of Design Technology, our children become ready; ready for any eventuality that learning might present to them.
What will my child experience through Design Technology at Pennoweth?
Throughout the children's time at Pennoweth, Design Technology is taught as part of a project-based approach . This approach aims to cover every aspect of the Design Technology National Curriculum. Children will encounter Design Technology through several immersive projects during each Key Stage. These include: Moon Zoom in Years 1/2; Mighty Metals in Years 3/4 and Allotment in Years 5/6.
What Design and Technology skills and knowledge will my child learn at Pennoweth?
What sort of Design and Technology language will my child learn at Pennoweth?
Design Technology Ambassadors
Here are our Design Technology Ambassadors. They have been chosen from across the school to represent DT as they have a keen interest in the subject. They share their interest with their classes and discuss ideas for projects.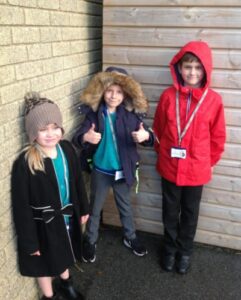 What do Pennoweth's children think about Design and Technology?
"I found out that triangles are a strong and sturdy shape. The frame is  a triangular based prism which gives it a strong base."
Year 6
"I really enjoyed DT, the part where we worked as a team to plant the seeds. My structure needed to be tall because the saplings can grow tall."
Year 5
"I liked making spinners in DT. It was hard at first but then they spun well. I had to think about the shape of the spinner. It was fun!"
Year 4
"I liked making my parachute and watching it float. My parachute stayed in the air the longest."
Year 3
"I have loved learning about space buggies. I never knew that people used them on the moon. I liked learning about the chassis and axles and how wheels move."
Year 2
"We learnt about buggies and they have axles to hold the wheels in place."
Year 1
What does Design and Technology look like at Pennoweth?
Design and Technology in Years 5 and 6
As part of their project, 'Allotment', Years 5 and 6 have designed and made a structure to support peas they are growing in class.
They researched plant supports and why climbing plants need this. They looked at what is currently available to buy. Years 5 and 6 worked in teams to plan and design their own structures. They followed their design plans and made their structures, then planted the seeds. Using their scientific knowledge of plants, Years 5 and 6 considered the best conditions to help a plant grow, and placed their structures in their classrooms, where they watered them, provided light and monitored the growth.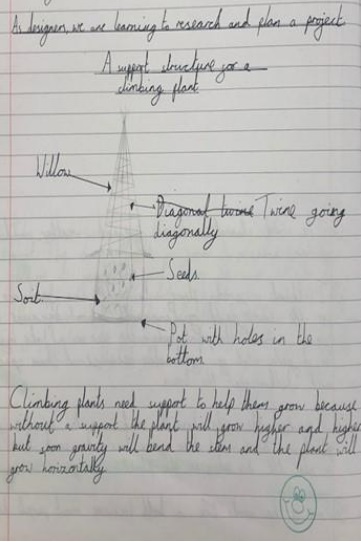 Evaluation!
As part of the design process, Years 5 and 6 evaluated their structures. They looked at what went well, what challenges they faced during the process, how they overcame these challenges, and whether they would change anything in the future.
Please do take a look. What do you think?
Design Technology in 3/4:
Scrumdiddlyumptious!
The children in Years 3/4 have been using their knowledge of healthy living to create snacks using a range of equipment and techniques.
They made a fantastic 'Vegetable Train' as well as fruit kebabs to encourage people to eat more healthily. Furthermore, they adapted a muffin recipe by reducing the amount of sugar and increasing the fruit content.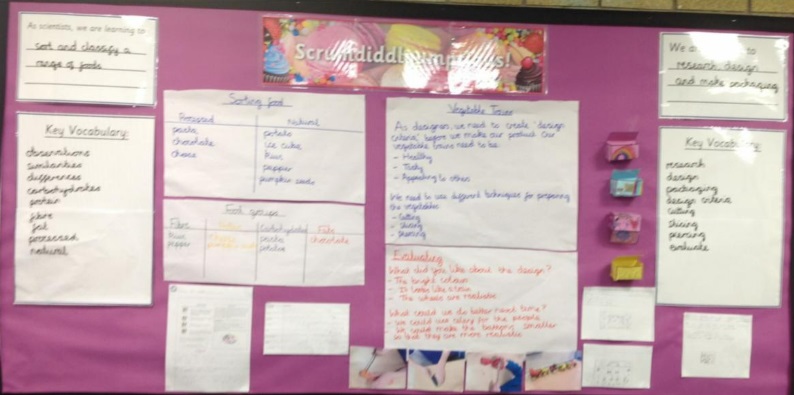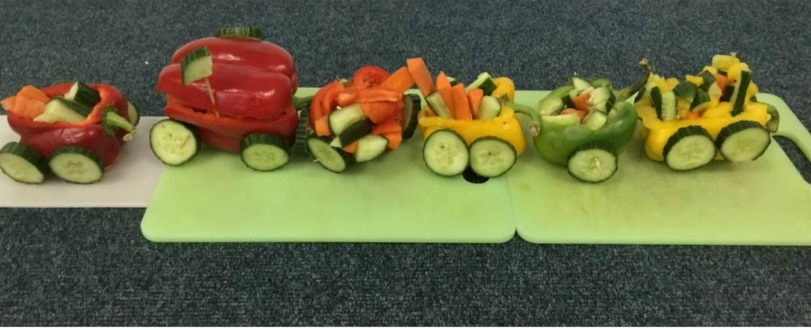 Comments from the children:
'In our Scrumdiddlyumptious project, I enjoyed making a veg train and banana and blueberry muffins as I enjoyed making them in school and following a recipe. We even had the chance to taste our healthy muffins!'
 'I enjoyed making the fruit kebabs as we got to design and create them and they linked to our learning about a healthy diet.'
The children were also challenged to design and make packaging for their project work. This involved researching existing products and identifying their own 'design criteria' before producing their own products which they made and evaluated by taking into consideration the opinions of others.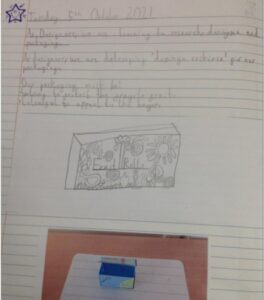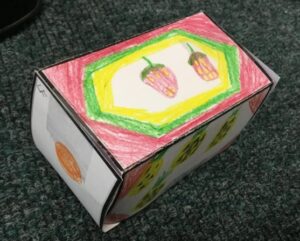 As part of their learning in Design Technology and their 'Mighty Metals' project, Years 3 and 4 designed and made magnetic board games, including spinners.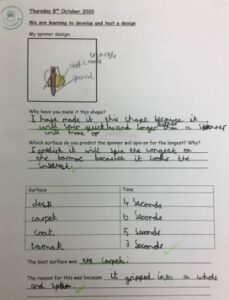 The Design Process – Spinners
The children had to consider the design of their spinner, making sure that the shape they chose allowed the spinner to spin!
Evaluating A Product
Based on the design criteria they established at the start, the spinners and games produced were evaluated, with consideration given to how the designs could be improved.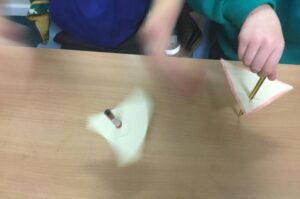 Design Technology in Years 1 and 2
For their project, 'Moon Zoom', Years 1 and 2 researched, designed and made space buggies, using their knew learning of chassis, suspension and axles.
Please take a look at the process, from research and design to making a finished product, below.